About Okinawa Airport Shuttle
Our vision
A more carefree and relaxing stay in Okinawa
we wanted to make Okinawa enjoyable, even without a car.
It was our dream to establish public transportation system anyone could use.
The local bus system is indispensable for locals.
Even on the national level, maintaining bus systems poses a big challenge, and the number of buses are decreasing drastically.
The establishment of wealthier society led to increase of cars.
Keeping the number of passengers is vital to maintaining public transportation systems, but the reality for the bus industry is dire; many bus companies are struggling to keep their business going.
It is not only the locals that are in need of public transportation.
During the high season, we witness numerous rental cars and their drivers, who go through paperwork with somber expressions.
We wanted to establish a public transportation system that could be utilized by both locals and tourists.
It is our hope that this bus system will provide a new way to explore Okinawa for tourists, and a new lifestyle for locals.

Thank you for your patronage.
About Okinawa Airport Shuttleて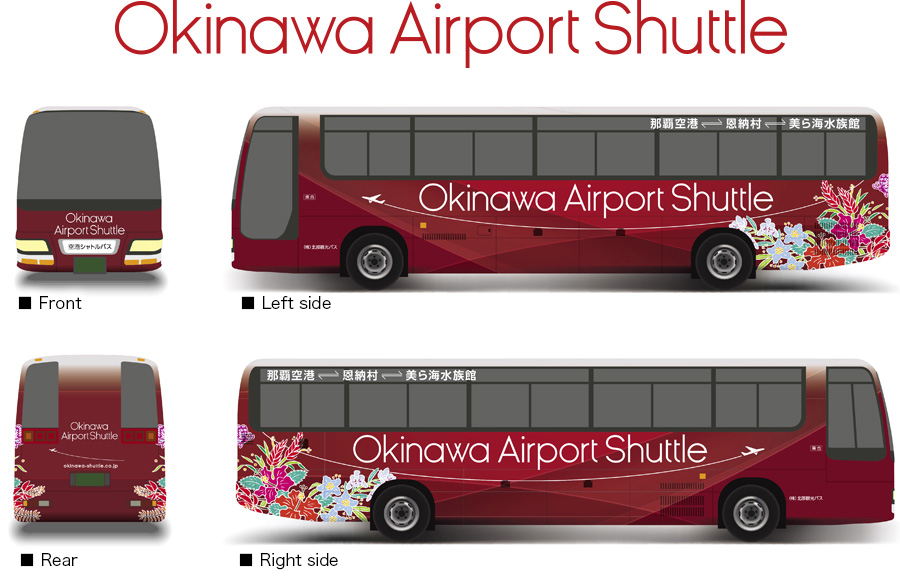 The bus is vermillion, the same shade of red as Shuri Castle.

What brightens up the rear is the dynamic yet chic, red-based illustration of Okinawan flowers (Nago orchid, ananas, iju, deigo, and hibiscus) and Okinawan butterflies (paper kite butterflies).